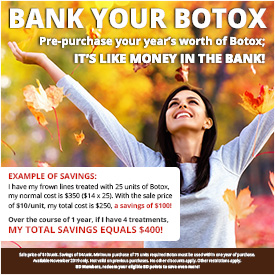 As we age, fine lines start to form on the face, especially around the eyes, forehead and frown lines between the eyes. Botox Cosmetic is an FDA-approved treatment of moderate to severe frown lines and crow's feet.
Now is the perfect time to learn more about how Botox can help you regain confidence in your appearance, before the New Year arrives!
Each month, the Vein Centers of Connecticut presents a special offer on a featured product or service. Our aesthetic and vein procedures address common facial and body concerns. These procedures are virtually painless and often require little to no downtime.
This November, pre-purchase and bank a years' worth of Botox…it's like money in the bank!
How Does It Work?
Botox Cosmetic temporarily reduces the activity of the injected muscles, which causes the wrinkles to relax and soften. This month only, you can save $4 per unit of Botox. Let's say your treatment requires 25 units of Botox. Typically, that would cost $350 at $14 per unit.
With the sale price of $10 per unit, your cost drops to $250 – a savings of $100! Purchasing units now and "banking" them for 2020 would save $400 on four treatments over the course of a year!
Important Offer Details
This offer is valid November 1 – 30, 2019. A minimum purchase of 75 units is required. Botox must be used within one year of purchase. Not valid on previous purchases. Allergan BD members can redeem their eligible rewards points to save even more!* No other promotions or discounts can be applied.

*Exclusions apply. Contact us to learn more about how this program works. Find out how to start saving!