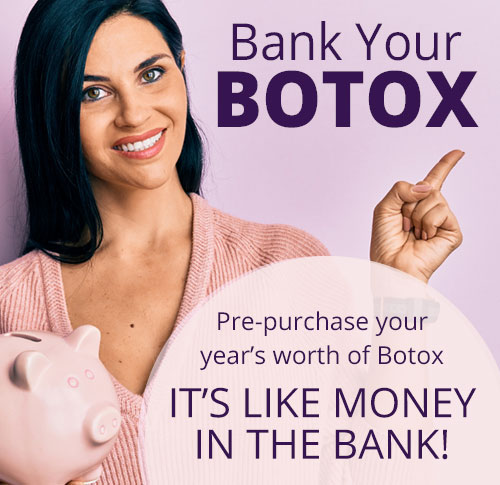 More than 6 million Botox® treatments are administered each year! Botox® Cosmetic is the first and only FDA-approved non-surgical procedure to treat frown lines and crow's feet. As our skin loses elasticity with age, collagen production slows. Collagen is a protein found in the human body that provides structure to the skin, bones and muscles. The loss of collagen over time can cause fine lines and wrinkles around the eyes and forehead.
This November, our patient-favorite promotion is back: Bank Your Botox. Pre-purchase a years' worth of Botox® units at a discounted price… it's like money in the bank!
About Botox® Cosmetic
After years of squinting and frowning, moderate to severe facial lines can form around the eyes and between the brows. Botox® Cosmetic temporarily targets muscles in the forehead and around the eyes, temporarily reducing their activity to lessen the appearance of frown lines and crow's feet lines.
Most patients can expect to notice a significant visual difference in three days. One round of Botox® injections typically keeps the skin looking smooth for up to four months!
How to Bank Your Botox
In November 2021, purchase Botox® at a discounted price of $10 per unit. If your specific treatment plan requires 30 units of Botox® at $14 each, that would normally cost you $420. At $4 less per unit, your total cost drops to $300 – a savings of $120! By purchasing and "banking" units for 2022, you would save $480 on four treatments over the course of a year.
Important Offer Details
This offer is valid November 1 – 30, 2021. A minimum purchase of 75 units is required. Botox® must be used within one year of purchase. Not valid on previous purchases.
Allē by Brilliant Distinctions® points can be earned or redeemed at the time of an actual BOTOX treatment.* No other promotions or discounts can be applied.

*Exclusions apply. Contact us to learn how the Allē Aesthetic Rewards Program works and start saving!